HOW TO PREPARE NIGERIAN SOUPS NATIONAL MEALS CONTINENTAL CUISINE AND PASTRIES WITHOUT STRESS
Everyone says you can cook better, but not so many can give you the exact techniques and strategies you need; this course is for you who needs to smash your cooking game at home, start a food business or improve your results in your food business and get MORE CLIENTS paying you MORE MONEY.
DON'T MISS this One Time Offer!
You must have had one or more of these experiences in the past:
Watched a video online, all fired up to reproduce the magic in your kitchen

but what you got after cooking was not what your expectations ordered for.
Seen a recipe online, followed every step without missing anything,

expecting the spoon-licker dish but got disappointed.
Followed prestigious online chefs as a front sitter, done your assignments

but still not satisfied with your results even after several trials.
Bought books to improve your cooking

but you want more!
Cooked a particular meal once, it came out so nice and you tried the next time

but didn't reproduce the same great taste.
Had sweaty palms because you needed to cook for guests or special people and

wasn't sure if you could cook the food perfectly.
You took a cooking class that didn't turn out so well and

here you are, still searching for answers.
You've always wanted to take a culinary course, but haven't found the perfect one.
These experiences and many more have probably left you frustrated or not satisfied. Then this course is definitely for you.
362 people have taken this course and have been certified in the last 12 months
Here's what some of our Students have to say about the culinary course and some of their results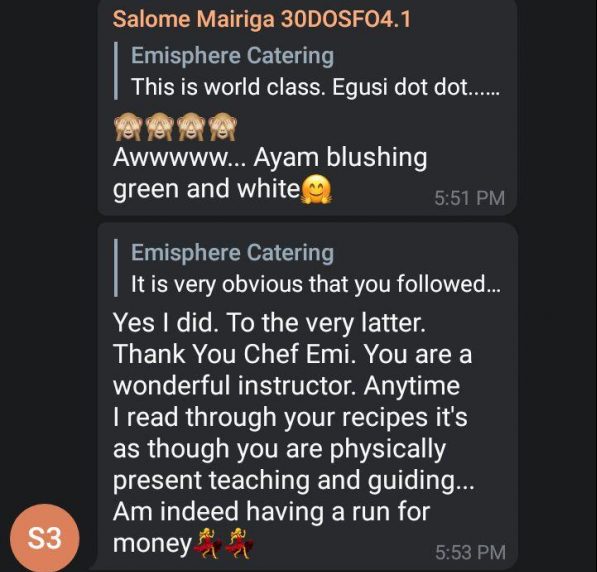 In this 30 Day ONLINE CULINARY COURSE, Chef Emi takes you by the hand to learn Nigerian soups, National dishes, Pastries, and Continental cuisine
It is fun, well structured, interactive self paced and convenient.
It starts at 8pm daily and it's for a duration of about 1 hour 30 minutes.
You don't have to worry about timing.
We understand that you might be at work, in traffic, with family or engaged in other life activities...
So we created the course in such a way that you don't have to be live online every evening,
anytime when you're back online, you'll have FULL ACCESS and you wont miss anything within these 30 Days.
It puts you under no form of pressure.
You do not have to buy anything upfront or worry about buying items.
You'll get Practical steps to achieve your desired cooking results (you will learn precise ingredients, timing and processes)
Frequently Asked Questions
What if I'm not regularly online because of work or other activities?
We understand that our students might be busy with work, life, family or just be stuck somewhere in traffic, so the course is created in such a way that it is self paced. You don't have to be under any pressure to be live online all the time. When you're back online, you'll have full access to the class and you won't miss anything. You also would have access to me 24/7 to answer your questions. You'll learn at your convenient time. Fantastic right?
Does the offer end?
Unfortunately, every good thing has an end and so does this special offer. It closes once the timer hits zero.
Here's what you'll learn again:
You would learn how to prepare
Nigerian soups
National meals
Continen

tal Cuisines

Pastries

Small Chops

Bread making

Basic

cake

baking
Over 60 meals
BONUSES
Certificate of Completion at the end of the course -

(Value N29,000)

A One month Nigerian

meal plan book - (Value N9,700)

Competitive and profitable pricing session

- (Value 40,000)

Restaurant Development - Menu Creation

- (Value N850,000)

One on one strategy session on how to start and develop your food business and make money -

(Value 350,000)
Additional 6 months of FREE access to Chef Emi to guide you - personally - (Value N300,000)
BONUS TOTAL: N1,578,700
You have seen the testimonials of previous students...
The absolute truth is that this course could be sold for N500,000 even WITHOUT the bonuses and it still would be well worth it.
I remember some moments in my life's journey when all I needed to get some things that would change my life was a little discount...
NOW, I'm giving you something much more than a discount.
I BELIEVE YOU DON'T HAVE TO PAY THROUGH YOUR NOSE TO LEARN HOW TO MAKE DELICIOUS MEALS FOR YOURSELF, YOUR FAMILY OR TO START THAT FOOD BUSINESS
FOR JUST 200,000 NAIRA, YOU CAN LEARN ALL THAT I HAVE MENTIONED ABOVE AND HAVE IT FOR LIFE.
You can start preparing delicious meals back to back right from Day 1 of the course. You are One Decision Away from Making another tasteless meal and it's totally up to you. Honestly!
Sign up For This Cooking Course for Just N200,000
If you miss it, you miss an opportunity of a lifetime.
This OFFER disappears once the timer hits ZERO
See, my friend, the feeling of regret is the worst and most painful a human can feel. You know why? There is no healing for it. Ask old people...
IF ALL you get from this course provides you with the means to enjoy new experiences for yourself and with the people you love and care about, would it be worth it?
For More Information, Text or WhatsApp 08062291862